VIDEO - ANIME - TRIGUN - EPISODE ONE - THE $$60,000,000,000 MAN
Posted by
purebliss4me on 2008.04.17 at 20:15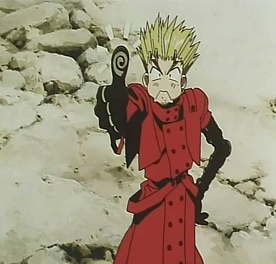 I simply fell in love with Trigun when it came on Adult Swim. To me Vash was just misunderstood and in the wrong place at the wrong time(a homicidal brother bent on all of mankind's destuction helps too). The soundtrack is real good. Sound Life is one of the best Anime Songs I heard in a while. Vash is the kind of kind hearted guy you would wanna hang out. He doesn't change that mach as in the manga. He is "a little bit more mature" but not much.
The infamous outlaw, Vash the Stampede, is worth $$60,000,000,000. Naturally, Vash meets up with plenty of Bounty Hunters. Today he meets another 2 crazy guys who are after his $$60,000,000,000 head. Vash doesn't want to hurt anyone when it's not neccesary. Enter two crazy insurance girls who is sent on a mission to prevent Vash from causing damage. When he is backed into a corner, he still fills out his promise and manages to take out the 2 Bounty Hunters without using a single bullet. But still manages to blow a town to bits.
Enjoy!
*NOTE THIS IS THE ENGLISH SUBBED VERSION. IT WILL HAVE ENGLISH SUBTITLES. SO ENJOY. Thanks!
*WARNING* THIS EPISODE TEACHES ONE TO NEVER GO TO A GUNFIGHT IN RED.
For more information including the track list and the link to the download click the cut*after one day all posts will be members only, this is to prevent leechers*
(cut to my media community)